Advertise with Us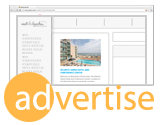 Join us and place your business in front of thousands of vacationers who use our site to plan their next getaway to resort beaches of Delaware. Advertising with us allows you to reach a unique audience interested travel and vacation information for Delaware resort towns. We will help you deliver featured listing that stands out to our website visitors.
During peak months, our  vacation guide website averages 100,000 visitors per month and over 300,000 pageviews.
Most businesses can't afford to target everyone. We'll help you get your message to the right audience.